There are only 5 days a year when the photos for this picture can be taken.
Only once since 2012 I was luck enough to be at the right place at the right time: 15.12.2013. ca. 22:00
The following conditions must be fulfilled in order to create the photos for this image:
- Cloudless / clear sky: even this aspect is a challenge in Salzburg
- Snow-covered mountains in the background
- Sufficient light must be emitted from the city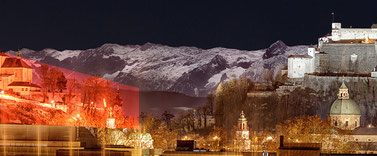 Especially the last point is only given during the Advent season: throughout the year the area marked in red (photo left) is practically completely black.  Only in December the Christmas lights of the city give enough light to illuminate this critical area in my picture.
Since 2012, there has been only a short period of time in which all the circumstances mentioned above were present: on 15 December 2013, at about 22:00
I doubt that I will ever again have the fortune to be in the right place at exactly the right time to take the photos for a similar picture. Lucky me!
You are interested in my pictures? HERE you can find more of my photo art.