The entire city of Salzburg is a wonderful photo motif. Anytime and everywhere you find motives that are worth to be photographed - photo motives in abundance!
At least that's what I keep hearing. Unfortunately, that's not the case.
It´s not quite that simple, as this picture in particular proves.
Why? Because the Residenzplatz in Salzburg usually is filled with lots of stuff: construction site fences and construction equipment, boxes and all kinds other of disturbing elements usually determine the appearance of the Residenzplatz. That might be enough for a little snapshot. But certainly not for a picture like I had in mind.
And: it is definitely not the people who are disturbing. For most of my pictures I need people.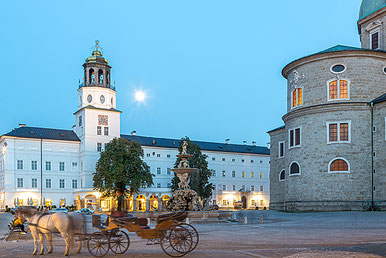 It was a few days after the "Rupertikirtag", when the Residenzplatz in its tidy splendor lay in front of me.
The initial idea was to capture the Residenplatz with carriages and a few people in the evening.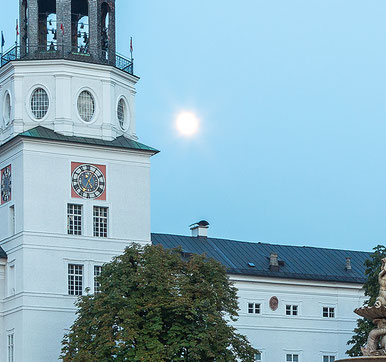 While I was taking my first photos, I noticed that people kept taking pictures in the direction of the Residenzbrunnen. It was evening, there were no water fountains from the fountain.
So: what was so interesting in this direction that people took photos?
I was so excited that the Residenzplatz was finally cleaned up that I completely overlooked that we had 2 days before full moon that evening!
So I discarded the original plan and photographed people shooting towards the moon.
There are "experts" who think that you have to see the final photo in your mind's eye from the beginning. If you don't do that it is not photography.
Well, that's not my approach.  In fact, in many cases I don't really have any idea in advance what my final image will look like.
I often start with 2 - 3 different variations of composition. During the process I decide on a final version.
If I would not approached my entire work with this freedom of thought and perception, this great picture might not have been created. I would be angry with myself forever.
As well as many of my clients ;-)